Print from print / Scanning
Finding photos you didn't know you had? Want extra copies to share with the family? Here at Parkers we make copies from your original prints.
We can create duplicates, resize, retouch and more from your hard copy prints.
Turn around time for a print from print order may vary from same day to a week, depending on what is required, but we aim to complete average orders within 2-3 days.
As we provide a large variety of custom options for you to choose from, pricing will vary from order to order, so this is discussed upon booking as an accurate price cannot be listed.
What we can do from your prints:
Custom sizing: Enlarge or down-scale
A choice of gloss or lustre finish paper
Quick turnover for important/ unpredicted events, where possible (e.g. funerals)
Digital scans – details here
Restoration, editing, retouching and custom montages – details here
Cropping/zooming into an image
Change colour prints to black and white
Duplicate copies
Major restoration work can take some time depending on what you want us to do, which in turn will affect the overall cost. The starting cost is £30 per hour of work. For this service we usually advice bringing in the print for us to view and quote from. You can also send in an image of the photo you want restored through our online restoration enquiry form.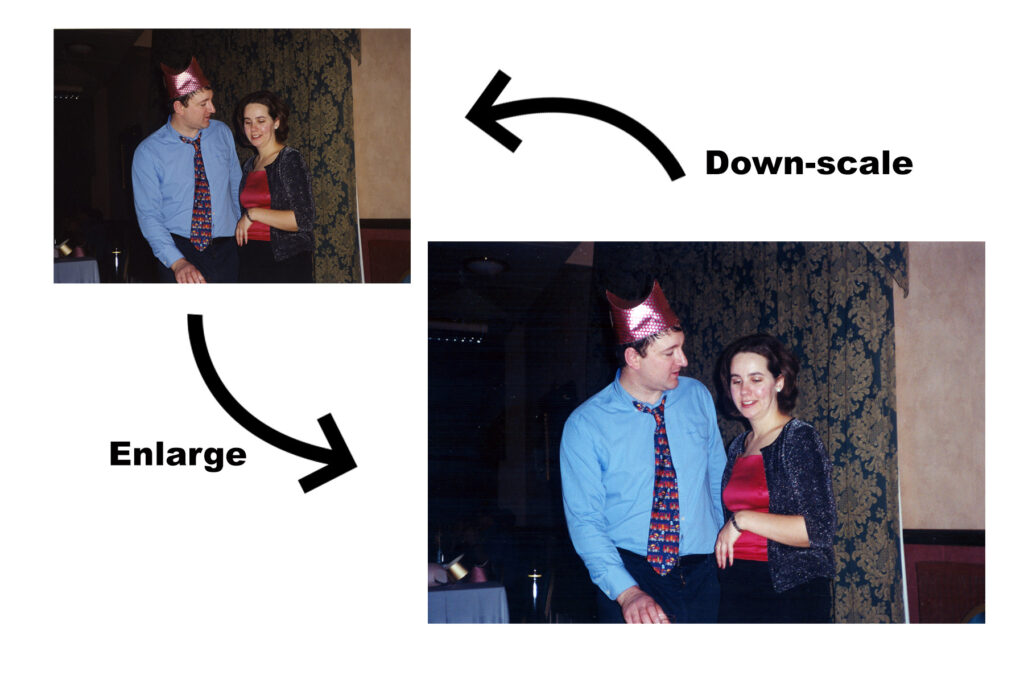 It's important to assess image quality before enlarging an image as the bigger you make the print the more obvious pixilation, graininess or blur will show. This is why we always discuss size options with you upon booking to meet any unique requirements of your particular photo. This helps ensure you get the outcome you desire. Majority of the time there is no issues at all with quality we simply copy direct from your original so it just depends what we are working with. If you have any concerns or want to go through the techy PPI/DPI resolution stuff we are more than happy to show you that too, please just ask!